By Chef Joji Sumi
Chef Joji Sumi | Through the Kitchen Window
A Damn Good Dim Sum Pop-Up
Chef Joji Sumi is the creator of the monthly pop-up dim sum restaurant called "Through The Kitchen Window." From San Francisco to the Berkshires in western Massachusetts, Joji partners with an ever-changing group of star chefs to create a night of small plate dishes that are wheeled around the dining room on a dim sum cart.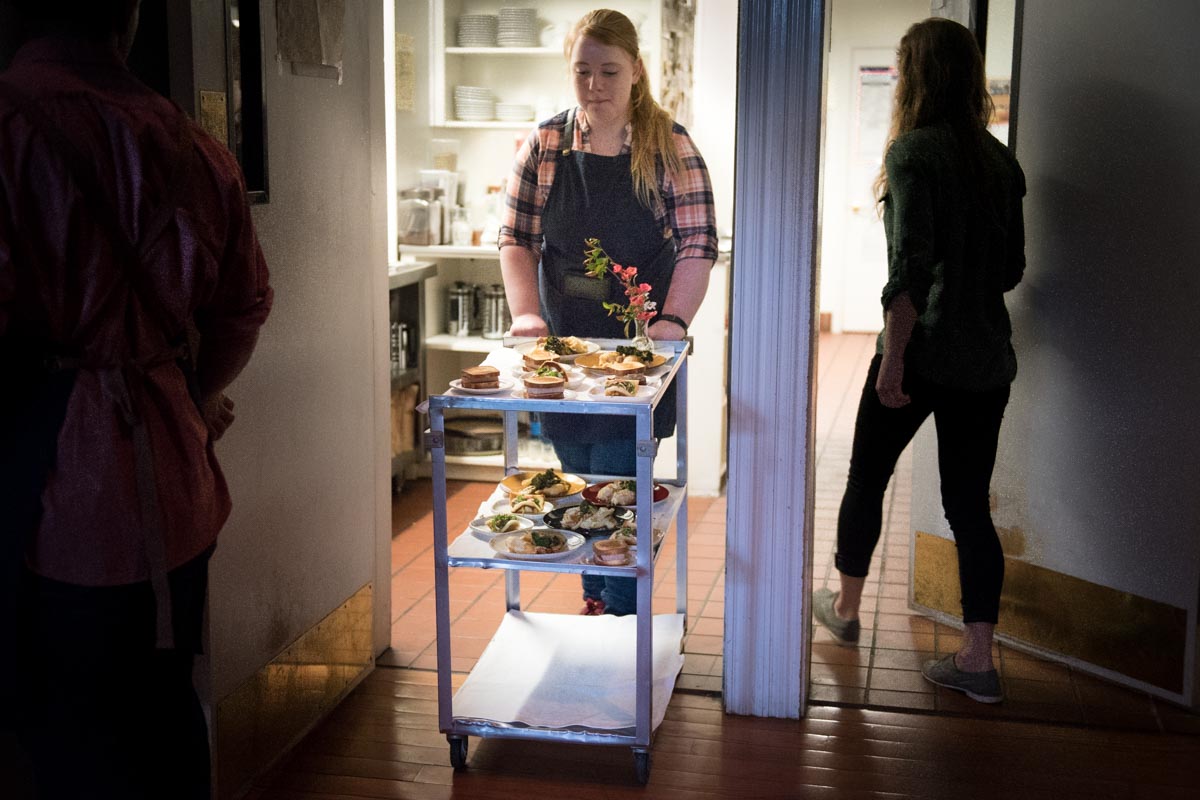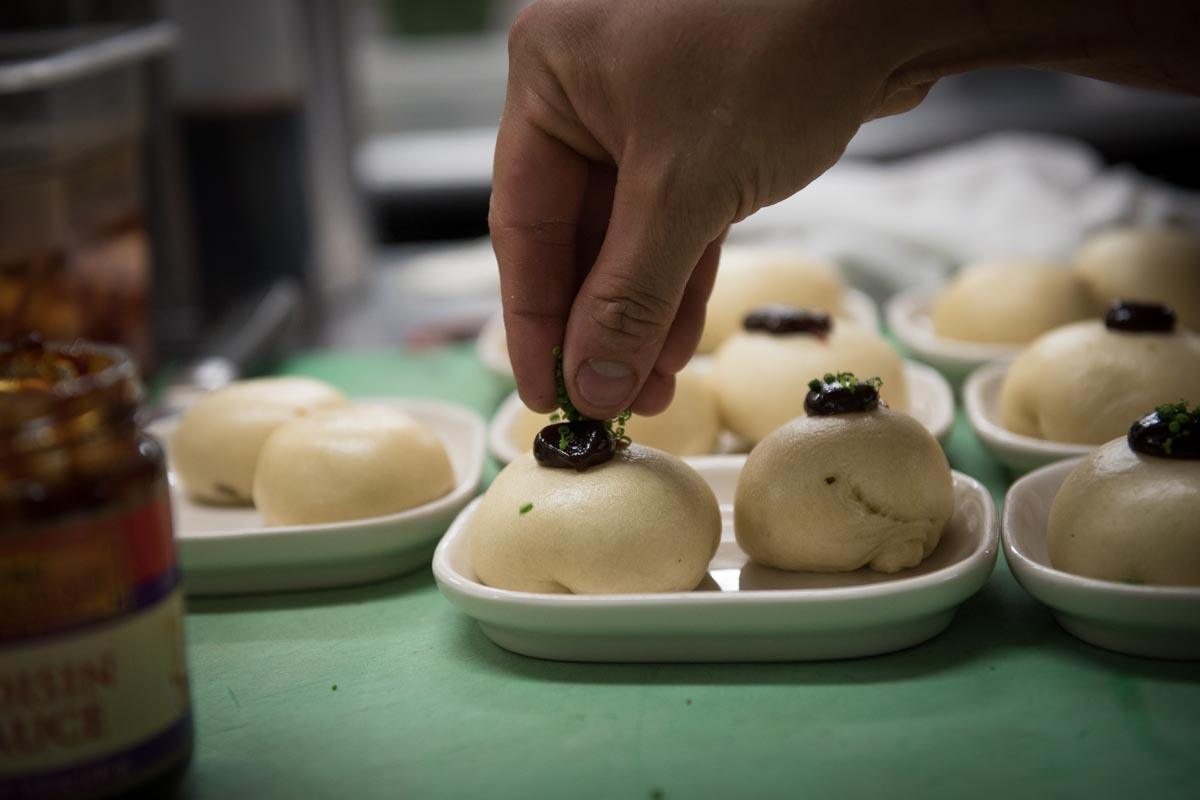 Joji calls it a "casual dim sum dining experience." But the dishes are not limited to classic Chinese dim sum and range from steamed mussels to a 'Grilled DBJ' made with duck liver and jam and served on a brioche. He goes on to say, "We create a range of dishes like huitlacoche dumplings with green garlic broth, fried duck wings with miso dip, and a whole pig's head with crepes and hoisin sauce. Guests can also expect to hear 90s hip hop beats and they can expect to eat... a lot."
Chef Joji Sumi's San Francisco Guide
Tartine Bakery
"They are a master of many things, but a plain croissant and drip coffee is my standard order."
Joji's ProTip: "The best thing to do is go late morning on a weekday when the line isn't wrapping around the block."
600 Guerrero Street, San Francisco, CA 94110
T: 415.487.2600 | www.tartinebakery.com
FARMERS MARKET
Alemany Farmers Market
"If I get a Saturday morning off from work, the Alemany Farmers Market is where I go. It has an incredible variety of produce and is very affordable."
100 Alemany Boulevard, San Francisco, CA 94110
T: 415.647.9423
FOOD MARKET
Duc Loi Market
"This is the place to go for Asian ingredients."
Joji's Pro Tip: "They make a really solid banh mi."
2200 Mission Street, San Francisco, CA 94110
T: 415.551.1772 | www.ducloimarket.com
LUNCH
SANDWICHES | Marla Bakery
"Chefs Amy Brown and Joe Wolf do a great lunch menu."
Joji's Pro Tip: "The items are seasonal, but any of their sandwiches on their house-made bread are the things to get."
3619 Balboa Street, San Francisco, CA 94121
T: 415.742.4379 | www.marlabakery.com
MEXICAN | Nopalito
"Few things are better than the carnitas tacos and a spicy Michelada."
306 Broderick Street, San Francisco, CA 94117
T: 415.437.0303 | www.nopalitosf.com
DIM SUM | Mama Ji's
"This is one of my favorite dim sum places. You can't go wrong with their Shanghai dumplings, crispy eggplant or fish with chiles and Sichuan pepper."
4416 18th Street, San Francisco, CA 94114
T: 415.626.4416 | www.mamajissf.com
ASIAN | Hawker Eats
"This is a small, no frills izakaya / ramen spot in Outer Richmond."
Joji's Pro Tip: "Their Kung Fu Chicken ramen is the perfect dish on a foggy San Francisco day."
1650 Balboa Street, San Francisco, CA 94121
T: 415.221.6288
B. Patisserie
"Hands down, come here for their kouign-amann (a round flakey Breton cake) or just about anything else for that matter."
2821 California Street, San Francisco, CA 94115
T: 415.440.1700 | bpatisserie.com
LATE AFTERNOON BEER
The Pizza Place on Noriega
"This is a great stop for a beer. It's a causal local spot just a few blocks from the beach with a good beer selection and a really chill atmosphere."
3901 Noriega Street, San Francisco, CA 94122
T: 415.759.5752 | www.pizzaplacesf.com
DINNER
The Progress
"The best thing about it is that their menu changes frequently so you can try new creative dishes every time you go."
Joji's Pro Tip: "They offer a multi-course, family style meal in their dining room, but I prefer to sit at the bar for drinks and a la carte dishes."
1525 Fillmore Street, San Francisco, CA 94115
T: 415.673.1294 | theprogress-sf.com
Pizza Hacker
"This is my go to pizza place in the city. My two favorites are the 'Go Vinny' (with marinated onions, Mama Lil's pickled goat horn peppers, house-made hot Italian sausage, tomato sauce, and fresh mozzarella) and the 'Rocket Man' (with arugula, garlic, fresh mozzarella, farm egg, lemon juice, and chili paste)."
3299 Mission Street, San Francisco, CA 94110
T: 415.874.5585 | thepizzahacker.com
LATE NIGHT
Nopa
"This is the best spot for a post-work burger and drink. The food and the service are always great and their cocktails are unmatched."
560 Divisadero Street, San Francisco, CA 94117
T: 415.864.8643 | www.nopasf.com
California FED 24-Hour Guides
California FED Feature Stories