Jonathan Fisher is the pastry chef of The Umstead Hotel and Spa and its signature restaurant, Herons in Cary, NC. Previously, he served as pastry chef at One Restaurant in Chapel Hill, was the assistant pastry chef at Le Bec Fin in Philadelphia, and Miel Patisserie in Cherry Hill, NJ before joining the team at The French Laundry restaurant in Yountville, CA. He also gained experience as the chef de partie at Michelin three-star restaurant El Cellar de Can Roca, working alongside Jordi Roca, in in Girona, Spain.
Tell us about the experience you're creating at Herons:
"I like to incorporate a bit of intrigue to each course via interesting ingredients, perhaps a new technique or even flavors that envoke nostalgia. A big influence in our approach is our surroundings. Understanding these surroundings help to create and to be creative. Art and nature play a very key role in both the Herons dining experience."
Your desserts are the final note in a tasting menu. What is the narrative you're creating?
"My approach is very simple, but sometimes hard to achieve -- balance. I like to incorporate various and subtle textures to dessert which then make for a very cohesive experience. I often like to be a bit playful with desserts. It's one facet of the kitchen that can call for this. We try to think of ways to make things more approachable, interactive, and whimsical, therefore engaging our guest. Desserts are the final act of the play and need to be strong.
For example in our fall menu you can find a dessert that is based off the color orange. There are over 20 various components on the dessert and a bit chaotic, but as the guest navigates through the dessert the flavor profile continues to change. We are also have a dessert inspired by my favorite pie during the holidays. It's homage to lemon meringue pie. Fun whimsical and light."
HERON'S
100 Woodland Pond Drive, Cary, NC 27513
T: 919.447.4000 | Website
CHEF'S RALEIGH-DURHAM GUIDE
Bruegger's
I'm a sucker for a good breakfast bagel. Get the Sriracha Egg Sandwich and you won't be disappointed.
Preston Corner, 4212 NW Cary Parkway, Cary, NC 27513
T: 919.463.5563 | www.brueggers.com
Rams Plaza, 1800 East Franklin Street, Chapel Hill, NC 27514
T: 919.929.5524 | www.brueggers.com
MORNING | Coffee
Caffe Driade
This is a perfect sanctuary to unwind. You can go on a hike through the trails behind the shop or just sit and relax.
1215 East Franklin Street, Chapel Hill, NC 27514
T: 919.942.2333 | caffedriade.com
SHOPPING | Food & Markets
Durham Farmers Market
It's a very eclectic market with a wide range of produce, food trucks, and even ceramics. It's so easy to get inspired when I shop here.
501 Foster Street, Durham, NC 27701
www.durhamfarmersmarket.com
LUNCH
Guasaca
This is a hidden gem that won't hurt the budget. They are focused on arepas and you can watch them make them fresh everyday.
4025 Lake Boone Trail, Raleigh, NC 27607
T: 919.322.4928 | guasaca.com
AFTERNOON | Snack & Sweets
LucetteGrace
Owner Daniel Benjamin was a long time alum of The Umstead Hotel and Spa. I really respect what he is doing and his Dixie Cannonball with local sausage, smoked cheddar, scallion biscuit, and sausage gravy are definitely worth the trip.
235 South Salisbury Street, Raleigh, NC 27601
T: 919.307.4950 | www.lucettegrace.com
DINNER
SOUTHERN | Poole's Downtown Diner
This is a Raleigh institution. Anytime I have friends or guests in town, we always dine here. The food is great and the atmosphere is energetic.
426 S McDowell Street, Raleigh, NC 27601
T: 919.832.4477 | ac-restaurants.com/pooles
ON MY WISH LIST
These two places are on my to do list and I'm looking forward to experiencing them.
Discover FED 24-Hour Guides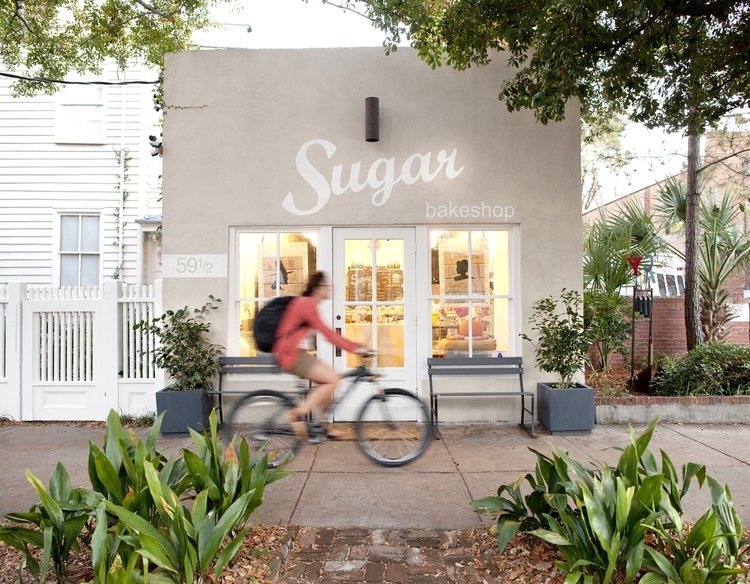 North Carolina FED Feature Stories