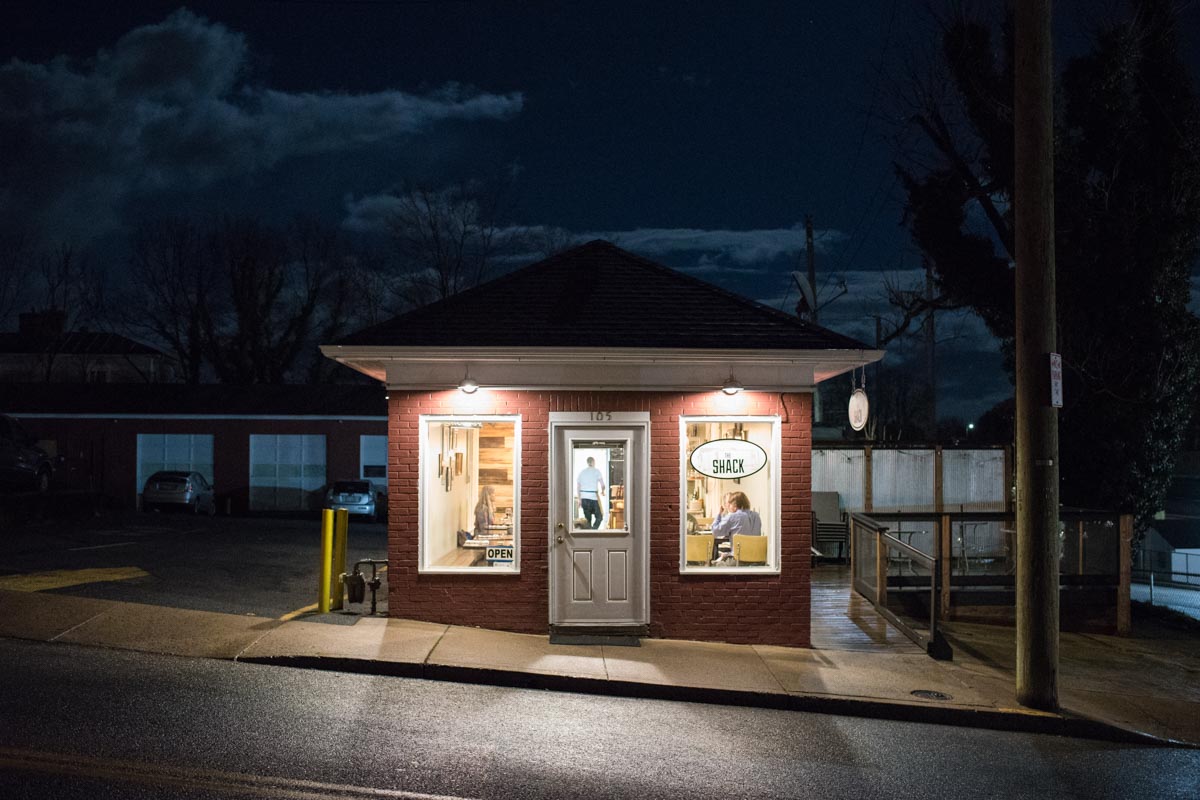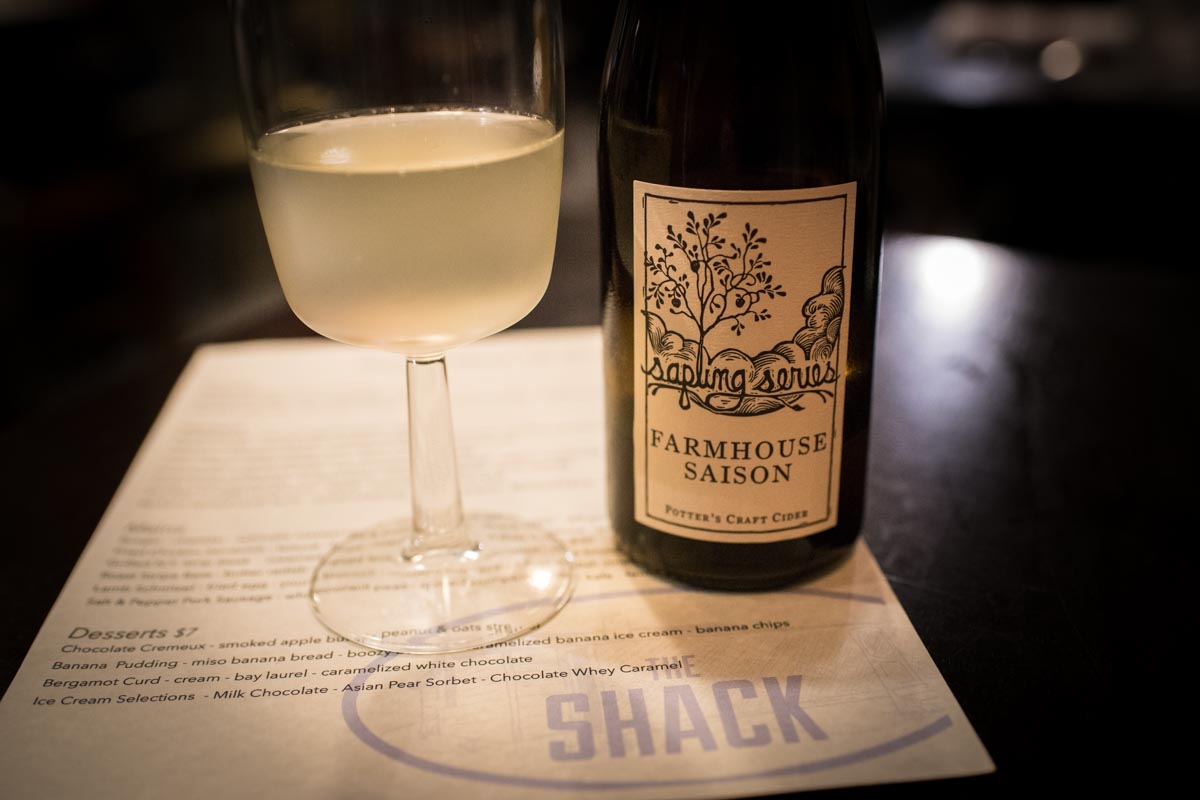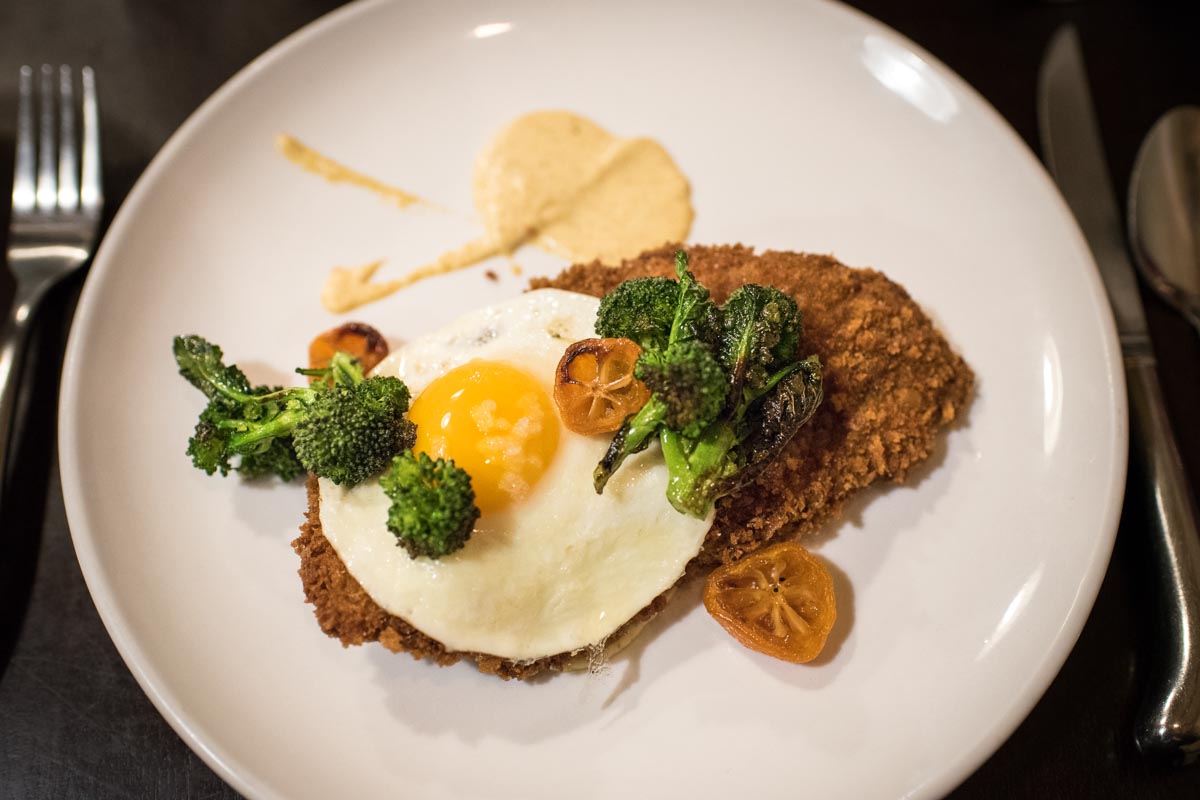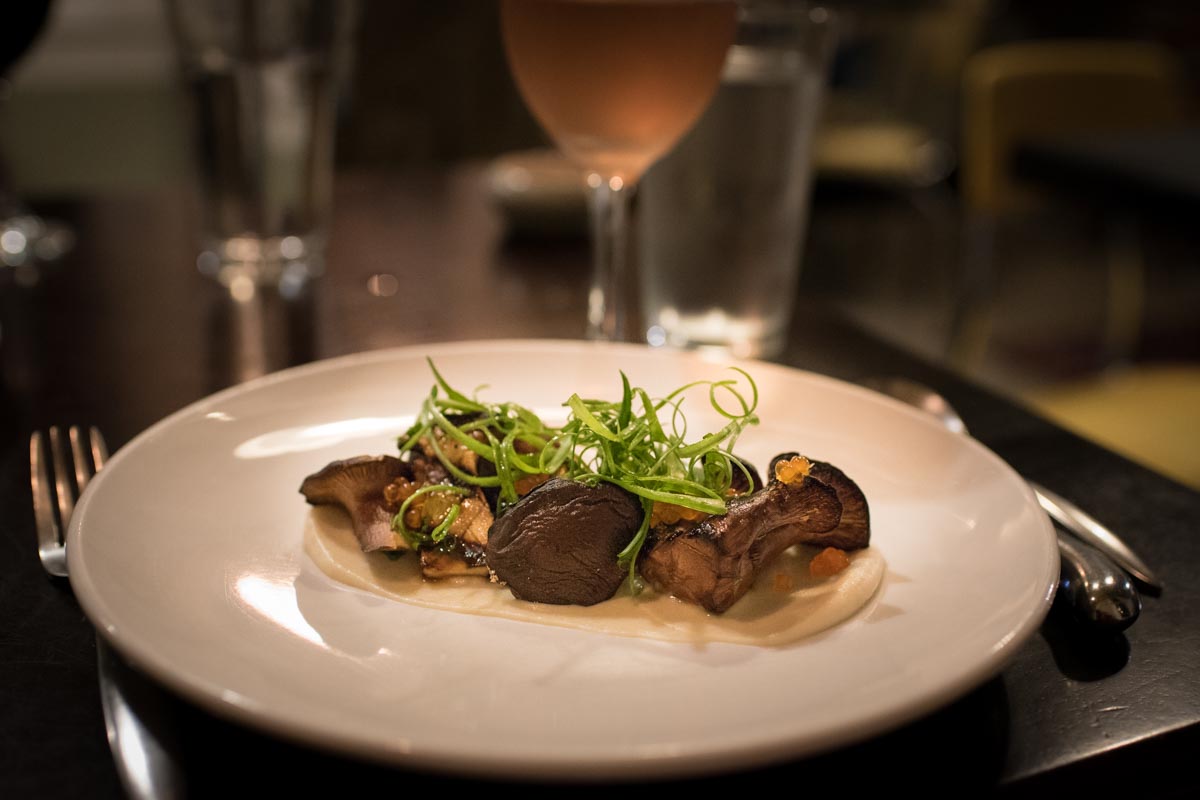 Dinner at The Shack in Staunton, VA | Photo Credit: ©Find. Eat. Drink.
STAUNTON, VA
Coffee
RÉUNION BAKERY & ESPRESSO
Start your day with an espresso and a fresh-baked croissant at this cafe owned by baker Bryan Hollar, who worked in bakeries and espresso shops around the country before moving to Staunton.
26 South New Street, Staunton, VA 24401
T: 540.569.2819
www.reunionbakery.com
Sweets
KLINE'S DAIRY BAR
They opened their first shop in Harrisonburg, VA in 1943 and now have four locations. Chef Andrew Little (Josephine in Nashville) recommends getting their chocolate peanut butter ice cream.
906 Greenville Avenue, Staunton, VA 24401 | T: 540.885.4664
58 East Wolfe Street, Harrisonburg,VA 22802 | T: 540.434.6980
2425 South Main Street, Harrisonburg, VA 22801 | T: 540.434.4014
1235 West Main Street, Waynesboro, VA 22980 | T: 540.942.5282
www.klinesdairybar.com
Dinner
THE SHACK
This 400-square foot restaurant is owned by chef Ian Boden who gained national attention as a twice-nominated, semi-finalist for a James Beard Best Chef Award. Start with one of their dry Virginia ciders and dine on dishes like lamb schnitzel topped with a fried egg. Our tip: book in advance.
105 South Coalter Street, Staunton, VA 24401
T: 540.490.1961
www.theshackva.com | Book a Table
Shop
WARES ON BEVERLEY
Pop into this housewares boutique to pick up a bottle of Mother Shrub, an organic drinking vinegar made in Virginia. Makes for a great souvenir.
34 East Beverley Street, Staunton, VA 24401
T: 540.712.0799
www.facebook.com/waresonbeverley
Stay
STONEWALL JACKSON HOTEL
Located in the historic downtown area so it is walking distance to shops and restaurants. Originally opened in 1924, it was restored in 2005 and has a fitness center and an indoor heated pool.
24 South Market Street, Staunton, VA 24401
T: 540.885.4848
www.stonewalljacksonhotel.com
On the way to Staunton, VA
LURAY CAVERNS
The largest caverns in the United States with 10-story high, cathedral-sized rooms with dramatic, towering stone formations.
101 Cave Hill Road, Luray, VA 22835
T: 540.743.6551
luraycaverns.com
SKYLINE DRIVE
75 miles west of Washington, DC with the north entrance located just off Route 66 offering spectacular panoramic views in the Shenandoah National Park.
Front Royal Entrance Station near Rt. 66 and 340
Thornton Gap Entrance Station at Rt. 211
Swift Run Gap Entrance Station at Rt. 33
Rockfish Gap Entrance Station at Rt. 64 and Rt. 250 (also the northern entrance to the Blue Ridge Parkway)
visitskylinedrive.org
CHECK OUT CHEF Ian Boden's Guide to Staunton
LEXINGTON, VA
Eat
PURE EATS
Perfect for a quick lunch. They serve burgers, Virginia beers, and house-made doughnuts. The burgers are made from locally-sourced beef and they have a veggie burger option too. Don't miss the fries cooked in beef tallow.
107 North Main Street, Lexington, VA 24450
T: 540.462.6000
www.pure-eats.com
On the way to Lexington, VA
BLUE RIDGE PARKWAY
469 miles of winding road through picturesque Virginia and North Carolina covering the highest mountain peak in the United States (Mount Mitchell), the oldest river in North America (New River), the deepest gorge east of the Grand Canyon (Linville Gorge), the highest waterfall east of the Rockies (Whitewater Falls).
www.blueridgeparkway.org
NATURAL BRIDGE, VA
See
NATURAL BRIDGE
A 215-foot tall limestone arch hanging over a gorge. It cost $8 per person to view the bridge and from there you can hike along the river bank.
15 Appledore Lane, Natural Bridge, VA 24578
T: 800.533.1410
www.naturalbridgeva.com
Breakfast
SCRATCH BISCUIT COMPANY
Located in Grandin Village, a historic area that was Roanoke's first suburb. Start your day the Southern way with warm house-made biscuits. They price them on a tiered system -- $2, $3, or $4 depending on what you have on them. You can opt for plain with sausage, egg and cheese or upgrade and get pulled pork or country ham. The list is long with lots of options and sides. They also have their own in-house roasted coffee.
1820 Memorial Avenue SW, Roanoke, VA 24015
T: 540.855.0882
www.scratchbiscuit.com
Shop
VINTAGE VAULT RECORDS
In the back of an unassuming shopping mall is this thimble-sized vinyl shop with a good selection of new and used albums ranging from classic to punk.
16 Church Avenue SW, Roanoke, VA 24011
T: 540.314.7193
Lunch
TEXAS TAVERN
A tiny diner with just 10 counter stools. It was opened in 1930 by Nick Bullington, an advance man for the Ringling Brothers Circus. He got a chili recipe from a hotel in San Antonio, TX. Hence the name. The menu includes a few more options now and they serve 24/7, so you can always return to satisfy your midnight munchies.
114 Church Avenue SW, Roanoke, VA 24011
T: 540.342.4824
www.texastavern-inc.com
Dinner
LOCAL ROOTS
This is right in the center of Grandin Village, near the 1930s movie theater. Their menu is focused on locally-sourced, farm-fresh ingredients and the list includes many Virginia wines, beer and ciders.
1314 Grandin Road SW, Roanoke, VA 24015
T: 540.206.2610
www.localrootsrestaurant.com
BOOK A TABLE
BLUE APRON RESTAURANT & RED ROOSTER BAR
This is about 20 minutes from the center of Roanoke in downtown Salem. They give you the option to order dishes in two sizes, small or large. The cuisine ranges from foie gras to fried oysters to East Coast Rockfish to Grilled Top Blade Steak.
210 East Main Street, Salem, VA 24153
T: 540.375.0055
blueapronredrooster.com
Stay
THE HOTEL ROANOKE
A large 1880s Tudor-style building listed on the National Register of Historic Places. The property is part of Hilton's upscale Curio Collection. They have an attached conference center, so expect lots of people wearing name tags roaming the lobby. The hotel is connected to downtown via a pedestrian bridge, making it a convenient place to stay.
110 Shenandoah Avenue NW, Roanoke, VA 24016
T: 540.985.5900
curiocollection3.hilton.com
On the way to Asheville, NC
FOGGY RIDGE CIDER
A range of ciders made from a variety of apples in Dugspur, VA. Founder Diane Flynt has been nominated three times for a James Beard Foundation Award. Orchards are open by appointment.
1328 State Rd 656, Dugspur, VA 24325
T: 336.253.7141
foggyridgecider.com
More Southern Road Trip...